KHANH VUA IMPORT-EXPORT CO., LTD. was established and is currently operating under Business Law with business registration No. 0201764534 granted by Haiphong City Department of Planning and Investment.
The company is a legal entity with legitimate seal and an active bank account, regcognized by the government for its long-term existence and legitimate profitability. All activities of the company are in compliance with the law and entitled to many other legal rights.
I. OUR MISSIONS:
- Provide import-export consultant and brokerage.
- Introduce and promote trade
- Organize domestic and international trade events and fairs.
Currently, KHANH VUA IMPORT-EXPORT CO., LTD owns and operates the Import-Export portal: https://www.xnkkhanhvua.com | https://www.hptrade.com.vn
Our website provide continuously updated newsletters regarding international business ventures certified by out Board of Management. It is also a place for trade promotion, product advertisment, and image boost for aspiring import-export businesses who are interested in booming industries such as: Apparel - Footwear, Woodwork- Furniture, Seafood, Agriculture , Fossil Fuels - Gree Energy, Traditional Craft Villages, Building Materials, Cast Iron & Steel, Minerals, Machinery lines and other services in Vietnam.
II. OUR VISION:
With a staff of dynamic young, creative, hard-working and eager to learn individuals; along with involvements from experienced experts in fields like investment, import-export consultancy, and logistics; KHANH VUA IMPORT-EXPORT CO., LTD is committed to continuous research and innovation, and achieving our goal of establishing our company as one of the top 15 largest import-export enterprises in Vietnam.
III. OUR CORE VALUES:
We aim to:
- Promote trade activities
- Provide product promotion for exporting or importing businesses
- Conduct trade cooperation among domestic and international enterprises.
- Organize events, seminars, and fairs
- Widely promote the true value of the products
- Provide consultant and solutions on commercial law
IV. OUR BUSINESS PHILOSOPHY:
We aspire to:
- Establishing our company as one of the top 15 largest import-export enterprises in Vietnam
- Commit to the protection of brand reputation and long-term business on the basis of respect for the law and society.
- Contribute actively to the socio-economic development in Vietnam.
- Always strive to ensure the best possible benefits for our customers and partners alike.
- Expand our network of business activities throughout the country, and expand our business to the regional and international market.
V. OUR DEVELOPMENT STRATEGY
- Maintain and increase the speed of development in every aspect: sales figure, market share, human resources, brand value, quantity of products and customer service.
- Promote and enhance the company's existing strengths in management, sales and domestic and international business cooperation in order to meet the increasing needs of potential customers, as well as to be ready for further cooperations in light of our country's integration into WTO.
With the desire to rapidly improve the way we serve our customers, we are always open to and appreciative of customer feedbacks.
VI. OUR ORGANIZATION STRUCTURE
For more information, please contact us: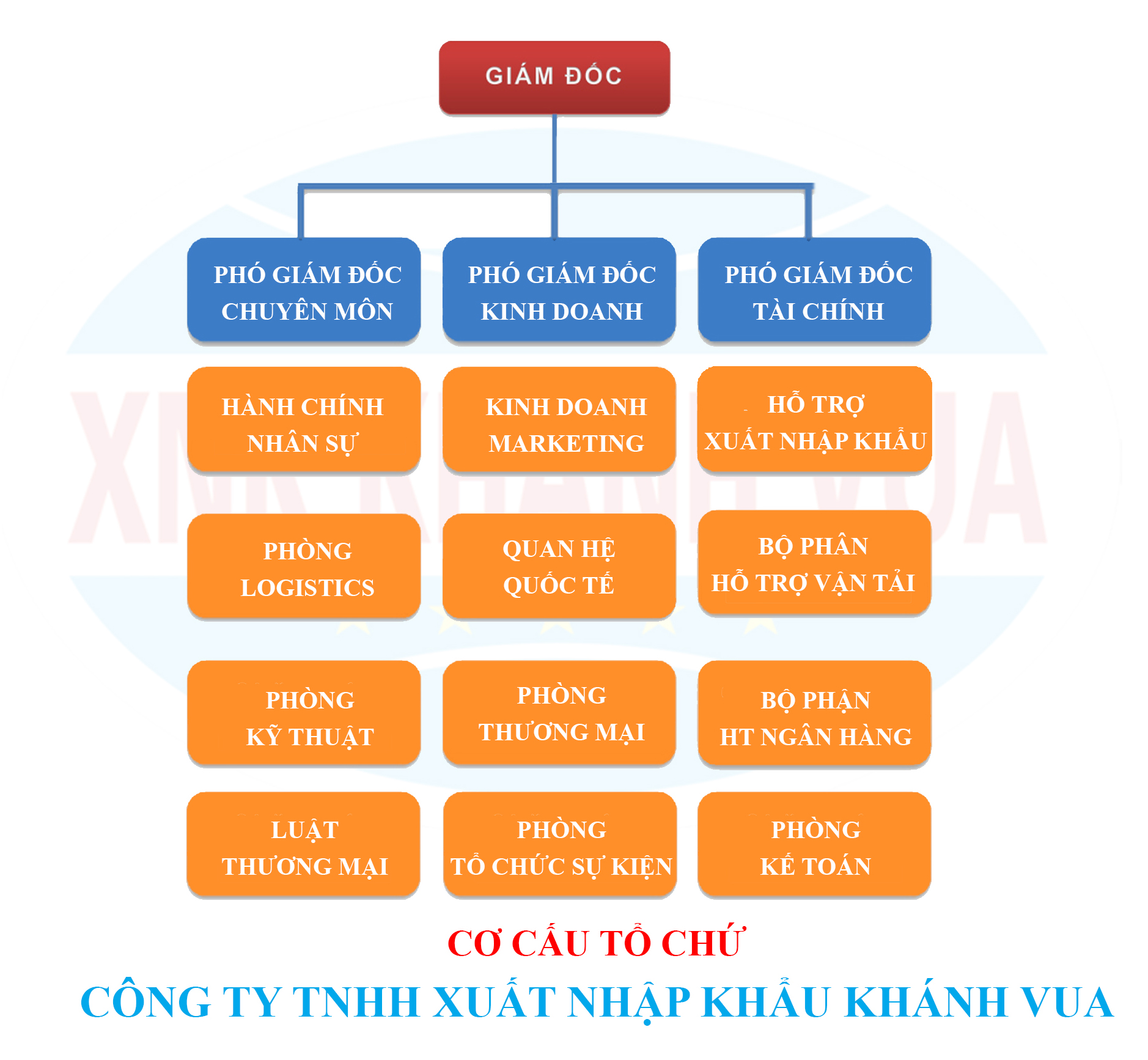 KHANH VUA IMPORT-EXPORT CO., LTD.
Address: Black 22, Vinh Niem Ward, Le Chan Dist, Haiphong
Office: 6th Floor, 739 Nguyen Van Linh Str., Le Chan Dist, Haiphong City, Vietnam
Telephone/Hotline: +84.931 590 223 | +84.931 590 224 – TEL/FAX: +84.2253742186
Email: xnkkhanhvua@gmail.com | khanhvuatrade@gmail.com
Website: https://www.xnkkhanhvua.com | https://www.hptrade.com.vn